Artists For Life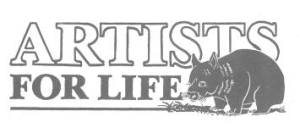 Until the end of the twentieth century, most of us gave little thought to the words "endangered species". As you know, that was all about to change. And Davson's charity Artists For Life was a vanguard of our new realisations.
In October 1990, Sydney-based artist Sharon Davson started the not-for-profit initiative Artists for Life, to promote awareness of the plight of endangered species through art. Over the next eight years in Australia and internationally, Davson initiated many art exhibitions, projects, concerts, boardroom and black tie dinners, functions and other art or educational events. These activities included dignitaries and celebrities, artists and educators and thousands of members of the general public.
The Artists For Life Patron was the Governor General of Australia, the Honourable Bill Hayden AC.
In 1992, Artists For Life received a letter from Australia's Prime Minister Paul Keating supporting the project, as well as dozens of positive letters from other dignitaries.
      "Endangered species is more than an urgent environmental issue. It is of major cultural importance as well. As we lose species from the wild, their inspiration is lost
       to future generations of artists. We then lose their forms from our paintings, sculptures and designs; from our literature, poetry and song; from our fabric designs
and architectural  details. Our culture, as well as our environment, is diminished."
Sharon Davson
Branches of the organisation were established with major events in Sydney and nearby Blue Mountains. The Footsteps Festival conducted by the Blue Mountains Branch of Artists For Life gained a NSW State Tourism Award in 1993.
The ten day festival included art exhibitions, concerts, dance theatre, street parades, dinners, education kits and bush walks. Artists For Life produced the first educational kits to be introduced in Australian schools and actively encouraged the expansion of ecological education by collaborating with numerous affiliated bodies.